December 2021
Mercedes-benz stadium | Atlanta, GA
Kickoff TBD
Standings
Team
Conf.
Overall

MEAC CONFERENCE

:
W-L
W-L
PF
PA
STRK

Bethune-Cookman Wildcats

BCU

-

-

-

-

-

Delaware State Hornets

DSU

-

-

-

-

-

Florida A&M Rattlers

FAMU

-

-

-

-

-

Howard Bison

HOW

-

-

-

-

-

Morgan State Bears

MORG

-

-

-

-

-

Norfolk State Spartans

NORF

-

-

-

-

-

North Carolina A&T Aggies

NCAT

-

-

-

-

-

North Carolina Central Eagles

NCCU

-

-

-

-

-

South Carolina State Bulldogs

SCST

-

-

-

-

-

SWAC - East

:
W-L
W-L
PF
PA
STRK

Alabama A&M Bulldogs

AAMU

-

-

-

-

-

Alabama State Hornets

ALST

-

-

-

-

-

Alcorn State Braves

ALCN

-

-

-

-

-

Jackson State Tigers

JKST

-

-

-

-

-

Mississippi Valley State Delta Devils

MVSU

-

-

-

-

-

SWAC - West

:
W-L
W-L
PF
PA
STRK

Arkansas-Pine Bluff Golden Lions

UAPB

-

-

-

-

-

Grambling Tigers

GRAM

-

-

-

-

-

Prairie View A&M Panthers

PV

-

-

-

-

-

Southern Jaguars

SOU

-

-

-

-

-

Texas Southern Tigers

TXSO

-

-

-

-

-
VS
The matchup
EVENT NEWS
2020 Celebration Bowl Cancelled
Statement from ESPN Events "Due to the MEAC's announcement of the cancellation of fall sports, both the MEAC/SWAC Challenge an...
CELEBRATING
OUR COMMUNITY
Check out some of the ways you can help us
stay involved in our local communities!
A Celebration of Service
The First Annual "A Celebration of Service" Presented by Wells-Fargo will engage the Greek Letter organizations termed as "The Divine Nine" in a showcase of the service they provide in communities around the country and the world. "A Celebration of Service" will culminate in Atlanta, Georgia on Saturday, December 15, 2018 at the Mercedes Benz Stadium during the ESPN owned Air Force Reserve Celebration Bowl, beginning at 12 noon, and televised nationally on ABC. Rank and file members of each organization will be asked to converge on Atlanta as a show of togetherness in a spirit of celebrating service.
100 Black Men of Atlanta
The Celebration Bowl is proud to partner with the 100 Black Men of Atlanta. The "100" play an integral part in the Atlanta community, striving to become the city's strongest, most self-reliant African-American volunteer organization focused on education, enrichment and empowerment.   The group produces many of the Celebration Bowl ancillary community events, including a […]
MORE INFO >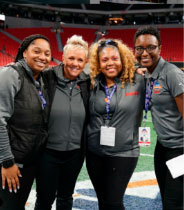 Ambassador Interest
Interested in becoming an Ambassador for the Celebration Bowl? Ambassadors are needed throughout bowl week (Tuesday-Saturday), not just on game day. Our selection committee will send qualifying Ambassadors an invitation to the private mandatory volunteer orientation meeting.  Thank you for your interest! Further details will be emailed to selected candidates. Apply Here >
JOIN US FOR THIS YEAR'S EXCITEMENT!
We are celebrating 5 years of the MEAC/SWAC rivalry and look forward to seeing you at this year's events. From Pep Rallies to the 5th Quarter, join us in all of the fun the HBCU community is about.